60th Anniversary
South Hills Coin Club Show
Coins, Currency, & Stamps
Crowne Plaza Hotel
164 Fort Couch Road
(Across from South Hills Village)
February 1 & 2, 2020
Sat. 10-5 Sun 10-3
Free hourly door prizes
Please be sure
to patronize our 40 table show.
Largest show in the area
after the PAN show.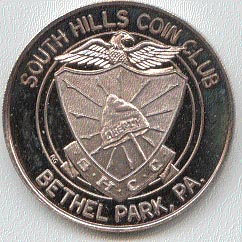 Current West Virginia Coin Shows
Note: the above links will list the most, but certainly not all, local shows in PA, OH, & WV respectively.